If you have your eye on a metallic slip dress from Zara that you're tempted to add to your wardrobe, you may be curious as to how to style your new acquisition. If so continue reading to discover a few slip dress outfit ideas that you may want to recreate. One of which involves pairing your metallic slip dress with stylish lace up flats, instead of heels.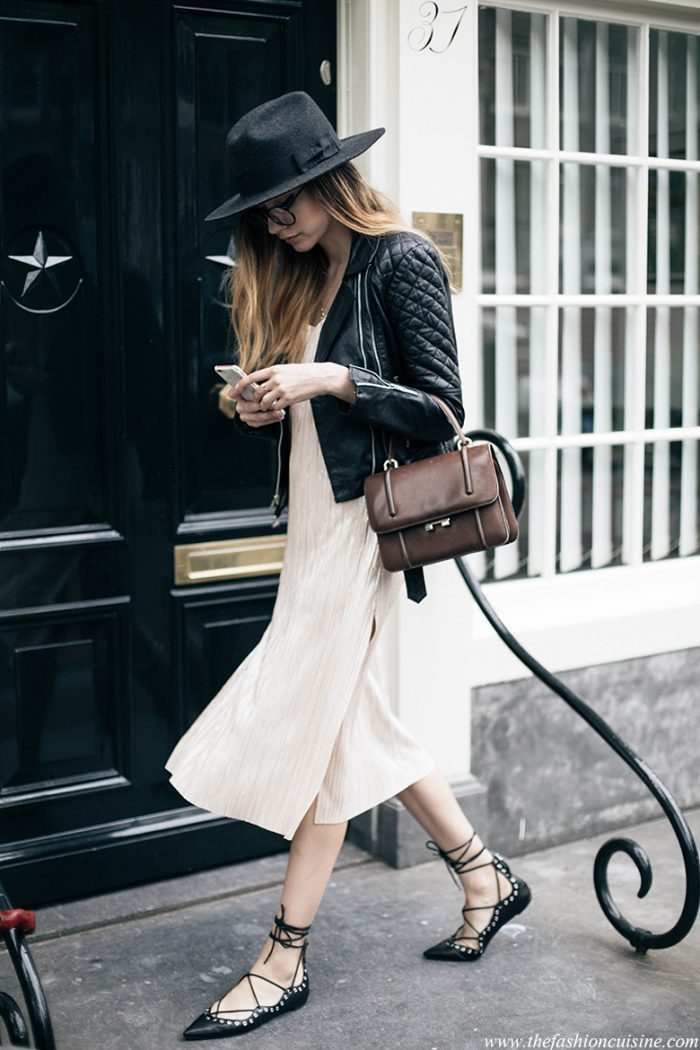 How to style Zara metallic slip dress and lace up flats trend:
While you might not be ready to give up your favorite pair of high heels, anytime soon, if you've been looking for a dressy alternative to high heels to pair with dresses, it's well worth following the lace up flats trend. For example, you may want to pair a glitzy metallic slip dress from Zara with lace up flats that will attract plenty of compliments and look just as put together and chic as high heels do.
Style your show stopping outfit with a sleek, modern hair style:
As the Zara metallic slip dress is incredibly sleek and elegant, it's a smart idea to opt for a hair style that is just as sleek as your new dress. For example, you may want to straighten your hair and to drape it over one shoulder, for a modern, contemporary look that will turn heads. Or if you prefer up dos to wearing your hair down you may want to opt for a high ponytail or a sleek bun. The options are endless.
With a metallic clutch:
It's well worth browsing Zara for a metallic clutch that is in a similar hue to your slip dress and has enough room to store all of your essentials such as your cards, keys and a tube of lipstick.
With a vintage clutch:
If you're unlucky and can't find a metallic clutch that is the same shade as your dress, you may want to search vintage thrift stores in order to find a retro clutch that may suit your dress. Such as an art deco style clutch as during the art deco period, shift dresses were all the rage. So if you're lucky you might be able to find a clutch that suits your shift dress well.
With a thin metallic belt:
While you may want to wear your metallic shift dress without a belt the majority of times that you wear it, you can also try cinching it in using a thin metallic belt. Such as a rope style silver or gold belt, that will showcase your waist.
So what are you waiting for? If you've been wanting to wear a metallic slip dress from Zara for a special occasion such as a social event, wedding or date, it's well worth styling two of the season's hottest trends together. A metallic slip dress from Zara and a pair of stunning lace up flats. As both trends work incredibly well together and will ensure that you look and feel like a million dollars at your next event or night out.