If you love the chunky aesthetic of the iconic chelsea boot but are stumped when it comes to coming up with unique ways to style your chelsea boots, there's no need for concern. Just continue reading in order to learn how to style the tara chelsea boot. As you can pair your chelsea boots with a cocoon coat, ripped jeans, a cocktail dress and skinny jeans. Just to name a few options.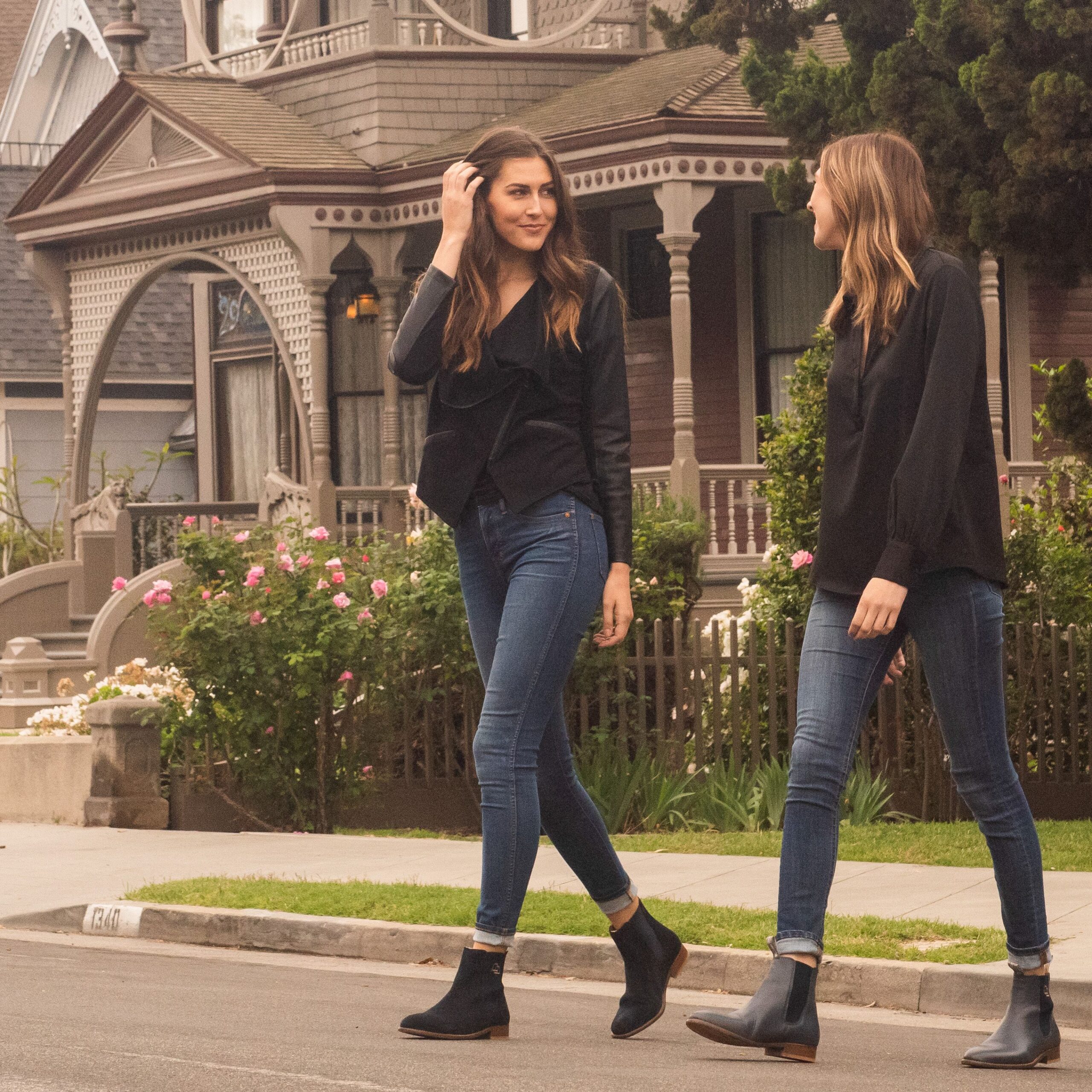 How to style the tara chelsea boot:
Cocoon coat with ripped knee mom jeans chelsea patent boots winter:
No matter how tall you are or what body shape you are, you'll find an oversized cocoon coat flattering as it simply drapes over your body and has minimal tailoring or adornments. As the tara chelsea boots make a bold style statement and it's a great idea to pair them with more minimalist pieces that will let people's eyes gravitate to your boots. When it comes to trousers, simply opt for mom jeans which feature ripped knees and will suit the slightly punk, rock, or grungy aesthetic of your chelsea boots. If in doubt, you can't go wrong for a pair of black mom jeans, especially in winter when you may want to gravitate away from your trusty old blue jeans.
If you're not a fan of minimalist style, you can style draw attention to your outfit by choosing a cocoon coat in a bright hue. As there's no rule saying that you have to opt for a camel, black or grey cocoon coat.
With a black lace dress:
Yes, you can wear chelsea boots with a cocktail dress. Especially if you don't feel like wearing high heels and want to appear a little taller than you are. For example, you may want to wear your chelsea boots with a lace skater style cocktail dress that features an intricate high neck. To accessorize your look pair a velvet choker with your dress. If chockers aren't your style you may want to opt for a gold locket instead, which will look classy and sophisticated.
Pair your tara chelsea boots with black skinny jeans and a black long sleeve shirt:
For an every day look that you'll reach for on a regular basis, simply pair your boots with black skinny jeans which show off your tara chelsea boots. As boyfriend style jeans, mom style jeans and boot leg style jeans will all cover up your chelsea boots. You may want to opt for a soft cashmere top or a contemporary style long sleeved top that offers fun ribbed details.
With a velvet mini skirt and a turtle neck:
During the cold winter months you may want to style your chelsea boots with a warm yet adorable velvet mini skirt, which you can tuck a simple neutral turtle neck into. To keep your legs warm on a cooler day, simply opt for a pair of black tights.
So if you are keen to wear your chelsea boots as often as possible as you find them effortlessly cool and comfortable, you may want to take some style advice from the article above.