Whether you're currently tempted to purchase your very first fringe jacket but don't know how to go about styling it for everyday wear or you're looking for fresh new ways to dress up your favorite fringe jacket, you've come to the right place. Simply continue reading to discover what to wear with a fringe jacket as there are countless ways to style a timeless, classic fringe jacket that will make you feel like an old school rock star.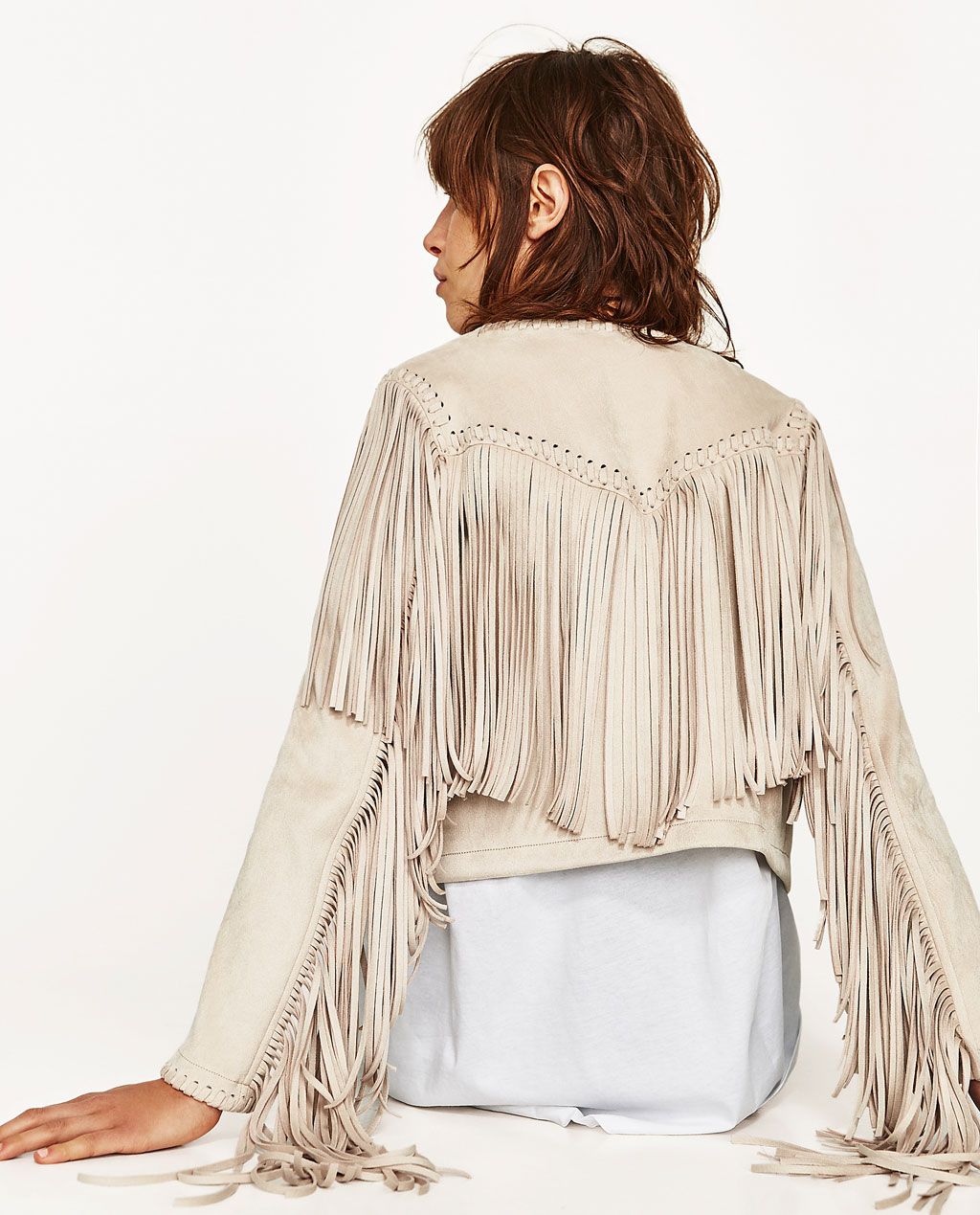 What to wear with a fringe jacket: The coolest way to wear fringe jacket 70s glam rock style trend
A band tee and white washed blue boyfriend jeans:
If you have a few band tees in your wardrobe, you may want to wear one underneath your chic fringe jacket and to pair your items with a pair of comfortable white-washed blue boyfriend jeans. If you like the look of high-waisted jeans, you can opt for a high-waisted pair, which you can tuck your band tee into to highlight your waist. You can even add a statement belt to your look to pull your look together.
A simple white tee or shirt and a pair of boots
If you prefer a more classic style, you can't go wrong matching your stylish fringe jacket with a simple white tee or shirt, a pair of jeans and a pair of suede ankle booties. Alternatively, if you appreciate vintage style you may want to pair vintage leather boots such as a pair of vintage cowboy boots with your outfit.
A wool fedora or an oversized wool hat:
If you like pairing hats with your outfits in order to look put together and as if you put great thought into your outfit, you may want to pair a wool fedora or an oversized wool hat with your fringe jacket. As you'll be able to wear your chosen hat with your fringe jacket all year round.
A floral blouse:
If you want to soften up your look and to add a touch of femininity to your outfit, place a floral blouse underneath your fringe jacket. You may even want to pair your suede jacket and floral blouse with a cute skirt. For example you may want to pair a suede jacket with a denim skirt and a floral blouse. You may want to compelte your outfit by picking out a pair of chic aviator sunglasses that will ensure that you look effortlessly chic.
T-shirt dress:
If you're looking for an outfit that is perfect for long, hot summer days, it's a fun idea to wear a simple black t-shirt dress under your fringe jacket. This is a great outfit to wear if you travel on a frequent basis and want to pack an outfit that is suitable for numerous occasions and can be dressed up to go to a restaurant in the evening. To complete your look simply pair a leather belt and a statement necklace with your oufit.
So if you're looking for brand new ways to style your favorite old fringe jacket or you'd like to purchase your first fringe jacket, it's well worth experimenting with the outfits above.