If you've seen how popular lace up flats are becoming and you're interested in purchasing a pair but have no idea how to style them, you've come to the right place. As if you continue reading you'll discover a few simple tips on how to wear lace up flats. As there are a far more versatile item than you might think.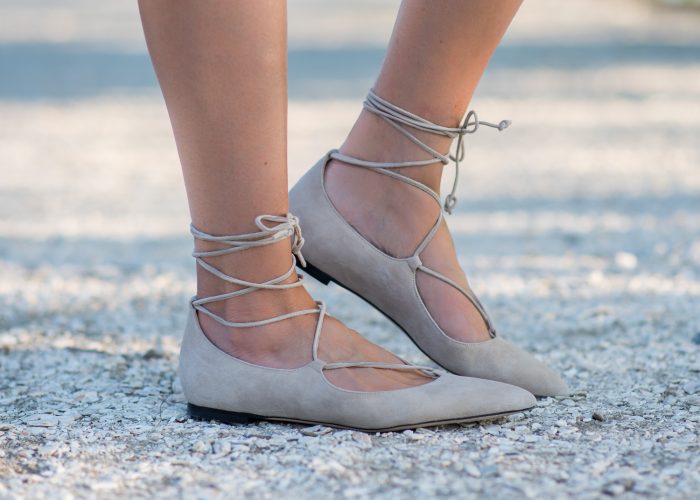 How to wear lace up flats:
With cropped jeans:
Instead of wearing lace up flats with regular, full-length jeans it's a better choice to pair them with cropped jeans that will draw attention to your new lace up flats. For example you may want to purchase a pair of sophisticated black lace up flats which you can pair with black cropped jeans. Alternatively, if you're looking to style a spring or summer inspired outfit you can pair nude lace up flats with white cropped jeans.
With a cute skater skirt:
Another way to style a pair of black lace up flats is with a skater style skirt and a cute shirt which you can layer a neutral cable knit sweater or a cardigan over. If your personal sense of style is ultra feminine you may even want to style cute frilly socks with your skater skirt and lace up flats from Zara.
White black pants and a oversized turtle neck top:
You can also wear your new flats when it's colder. For example, your flats will look adorable paired with a pair of black pants such as jeans, leggings or trousers teamed with an oversized turtle neck top. If you like this paticular outfit idea, it's also well worth looking for a turtle neck top from Zara as each season Zara offers a wide variety of quality turtle neck tops and sweaters.
A tailored suit:
If you're a business woman, you may want to experiment with pairing your Zara flats with a tailored suit that fits you perfectly. As Zara's lace up flats look just a sleek and proffesional as a pair of black stilettos. So if you want to look stylish, powerful and influential in your favorite tailored suit without getting sore feet, it's well worth wearing lace up flats with your favorite suit.
A little black dress:
Zara's lace up flats are so versatile that you can also wear them with a little black dress for a date or a night out on the town with your friends. Wearing flats for a night out is a great idea as your feet will be comfortable enough to dance for hours on end. Some examples of little black dresses that would look stunning with your new flats include a velvet mini dress or a midi length lace dress. Both of which are ideal for a wide variety of occasions.
So if you are keen on purchasing your first pair of Zara lace up flats but don't know how to style them, hopefully you have a few ideas of outfits now that will turn heads. Especially if you don't want to wear heels all the time!