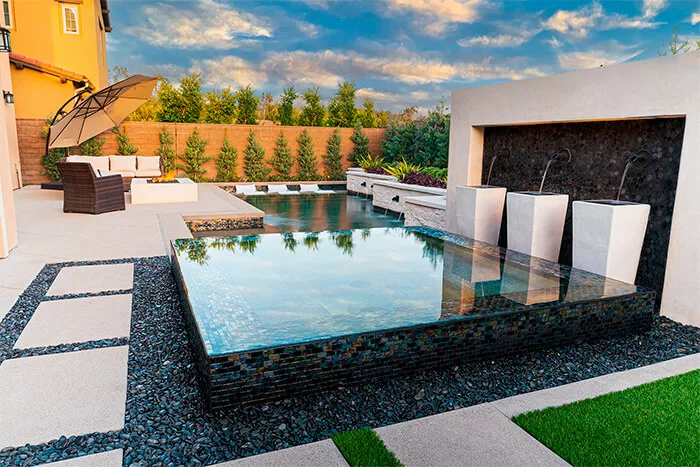 Swimming pools are an excellent place to relax and bond with family and friends. They also elevate parties and events held in the backyard. For people selling their homes, swimming pools help increase their value, ensuring they get off the market faster and at a better price.
It is easy to go for the basic square or rectangle swimming pools when constructing a swimming pool. However, more homeowners are gravitating towards custom swimming pools. They allow homeowners to express their style and match their landscape design and build in Singapore.
A well-trained and experienced custom pool builder usually has various sizes and designs they have done before, inspiring clients. They also suggest different pool features to help elevate the swimming pool.
Led Pool Lighting
This is the most common feature that pool builders install. They allow homeowners to transform their pool and backyard into whatever color or theme they want. While installing the LED lights in the pool, the professionals can also install them in other features around the pool for uniform lighting.
Fountains
These are other common features, and they help add dimension and sound to the swimming pool area. There are different styles and sizes that a custom pool builder can install depending on the homeowner's style and budget.
Bubbler fountains are the most popular, mostly installed near swim-up bars. Homeowners can install lights under the water for a more dramatic effect. They can also adjust the water stream heights depending on their preferences. Spray fountains are another standard style for people who want high-water jets always.
Tanning Ledges
These are large, shallow structures that resemble huge top entry steps. They are usually around 4-18 inches deep and around five to eight feet wide. They can be curved, rectangular, or round, creating an excellent place to relax and play with children without getting wet.
Scuppers
These features allow water to flow into the main pool, mostly from spa areas. They can be made using different materials like stone, oil-rubbed bronze, stainless steel, and copper, and homeowners can get them in varying sizes and shapes.
A custom pool builder can mount them along walls or as a focal point with a cascading waterfall.
Cascades
Also referred to as sheer descent waterfalls, these features come in different sizes and shapes. Many people confuse them with scuppers, but cascades release horizontal water streams, unlike the cylindrical streams from scupper spouts.
Homeowners can choose the raindrop pattern or smooth, even sheet designs depending on how they want the water to fall into the pool.
Rain Curtains
These resemble cascades but are installed higher from the pool. Homeowners can choose whether they want the water to fall from single streams or as uniform sheets. They can also install LED lights behind them for a beautiful effect after sunset.
Grottos
Adding grottos is one of the main ways homeowners can give their swimming pools an outdoor and woodsy vibe. They involve installing rocks from which water will fall, creating a waterfall effect. They also come with a small cave where people can swim for shade.
Spillover Spas
A spa next to the pool is an excellent source of enjoyment and relaxation in the backyard. Homeowners can elevate the look of their spa by adding spillover ledges where water cascades into the pool. The best thing is that they can personalize it using their best tiles.
Deck Jets
These are tube-shaped water streams flowing into the pool from a pool decking or coping, forming an arc. They have different heights, but most can go up to five feet.
Laminars
These resemble deck jets but are higher and have thicker water streams, giving them a more uniform arc. That also makes it possible for homeowners to add LED lights to them.
Fire And Water Bowls
These bowls come in various sizes, shapes, and materials. Fire bowls have flames dancing around the top, while water bowls have water flowing from them in uniform sheets into the pool.
Statuary
These are water features that have water flowing from them. They are usually sculptures of animals like dragons or people, but homeowners can choose other appropriate designs.
Calimingo is one of the top companies with highly trained, experienced, and certified custom pool builders in Southern California. They help with custom pool design, landscape design, installation, repair, maintenance, and price estimates.